For those of you who prefer Charmin (also known at The Krazy Coupon Lady as "Charmin Snobs" 🙂 ), there's a good deal on Charmin at CVS this week: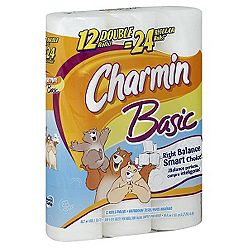 Charmin basic 12 pk double roll = $4.99
Use $1 off of 1 Charmin Basic from SS 11/28
(or you can join UPromise and print them off here).
Total oop = $3.99  or $0.33 for a double roll.
If you are wondering when toilet paper is a good deal, here are a few suggestions (see source):
Take the toal square footage on a pack of TP and move the decimal point to the left two spaces. In the case of the Charmin on sale at CVS this week, the total square footage in the package is 438.3. So you know you are getting a good deal if you pay $4.38 or less for the pack of toilet paper.
Pay $0.20/single roll or equivalent (so double rolls, pay $0.40 or less per roll).
Another blogger suggests waiting until Jan/Feb and then stocking up at CVS for the whole year. Here is some information about doing that.